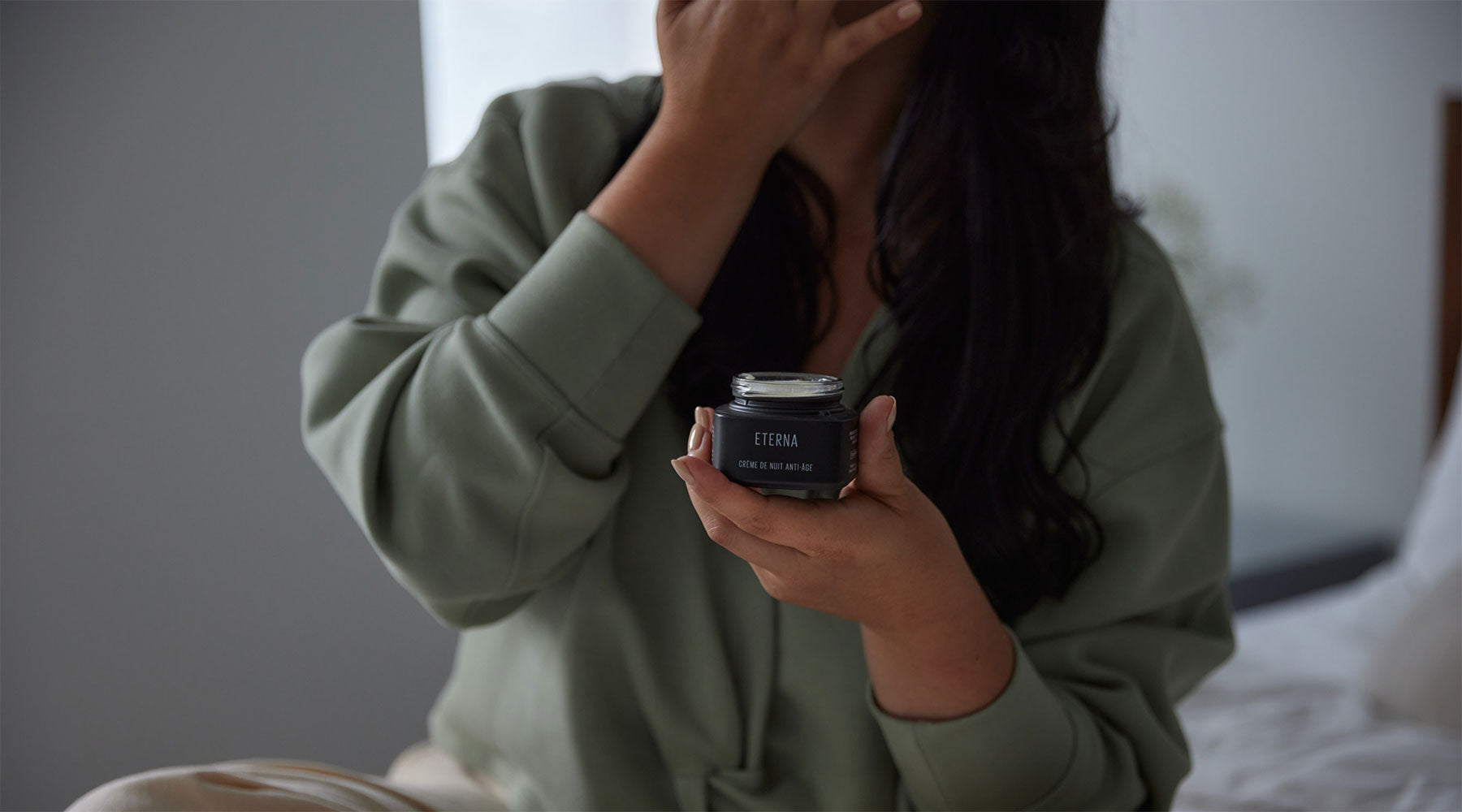 ETERNA, the Dreamy Night Cream for Renewed Skin
Having a well-rounded skincare routine is one of the keys to achieving healthy skin. This includes double cleansing and using nutrient-rich serums and creams tailored to your skin woes.
Hence why at FEY, we are committed to releasing result-driven products for you to build your perfect skincare routine.
Our latest release ETERNA, which is a restorative night cream, works synergistically with the rest of our line and is going to be your ally for smooth, rested skin.
At FEY, we value high-quality and result-driven skincare, free of compromises, powered by phytoextracts. Our products are made in Canada, eco-friendly, vegan, cruelty-free, paraben and glycol-free, gender-neutral, and for all skin types. We do not use any comprising ingredients and our entire line is free of artificial fragrances. ETERNA is no exception. 
What is ETERNA?
ETERNA is our new anti-aging night cream. A do-it-all meant to nourish, hydrate, plump, brighten, and even out the complexion.
Our latest addition is the perfect sidekick of PERLE, our slow-aging day cream. Together, they prevent and fight visible signs of aging, lack of elasticity, and damages linked to oxidative stress. It is formulated with 97% of naturally derived and organic ingredients, and suitable for all skin types.
What makes ETERNA unique?
ETERNA is this cushiony, silky cream moisturizer that feels featherlight upon application. A single layer provides the skin with desired hydration and nourishment, while its subtle organic lemon-verbena aroma will uplift your senses and mood. Our night cream leaves no sticky feeling and absorbs seamlessly.
As our skin holds an innate renewal and repair system at night, ETERNA has been formulated to provide additional support. Thanks to its overnight restorative action, your skin will feel appeased, brighter, and smoother. Signs of skin laxity, dehydration, and deep wrinkles will gradually diminish to bring back the firmness, glow, and softness that your skin is meant to have.
At FEY, we wanted to create an intensive treatment, consisting primarily of antioxidant-rich botanical extracts. 
Our result-driven approach has led us to choose bio-based active ingredients with astounding benefits including:
Natural-sourced Sophora Japonica Flower extract
Flowers and flower buds from the Japanese pagoda tree flowers have been used in traditional medicine. Rich in flavonoids, polyphenols, minerals, and amino acids, Japonica Flower extract is an antioxidant powerhouse. Consequently, it increases the skin's innate resistance to free radicals and boosts skin cell regeneration.
The result? A diminution in deep wrinkles and signs of fatigue. In addition to that, it boasts incredible antibacterial, anti-inflammatory, moisturizing and mattifying effects to balance out the skin's oil production.
Naturally-derived Squalane
Squalane happens to be naturally present in the skin lipid barrier. It holds the amazing ability to prevent moisture loss and restore suppleness and elasticity to the skin. As a result, wrinkles and fine lines are noticeably attenuated. Squalane also enhances the skin barrier integrity.
Squalane is naturally present in plants, and so we can source it sustainably.
Organic Rosehip fruit extract
Derived from Rosa Canina rose bush grown in Chile, Rosehip has such a wide array of benefits, hence why it can also be found in TONUS, our firming serum, and PERLE, our nourishing day cream.
High in Vitamins A, Bs C, E, and K, in omega 3 and 6 essential fatty acids, Rosehip oil can be considered as one of the most versatile oils in cosmetics.
An excellent emollient and moisturizer, it softens and boosts the skin barrier function. It also locks in moisture and is easily absorbed by the skin. Rosehip is used to assist in collagen production, enhancing its capacities to reduce wrinkles and fine lines as well as restoring firmness. Rosehip is also known for its regenerative and scar-healing abilities: dark spots, hyperpigmentation, and acne scars will diminish over time and a brighter complexion will ensue.
Naturally-derived Hyaluronic Acid
Hyaluronic acid is one of our specialties at FEY. Our signature hyaluronic acid blends combine specific types of Hyaluronic Acid of different molecular weights, which work in perfect synergy with our selected organic and plant-based ingredients.
Skin laxity that occurs with age is mostly due to a loss of collagen networks and elastin fibers. Hyaluronic acid has the capacity to retain moisture and can hold up to a thousand times its weight in water. It pulls moisture from the surface of the skin into the skin to restore the balance between the different skin layers.
Hyaluronic acid keeps the skin hydrated and minimizes the appearance of fine lines and wrinkles by plumping up the skin.
Organic lemon verbena oil
In addition to its uplifting aroma and anxiety-reducing benefits, Lemon Verbena possesses mild astringent qualities, ideal for combatting acne-causing bacteria. Some components of it also contribute to fighting inflammation, including reducing puffiness and swelling.
How to incorporate ETERNA into your evening routine?
We suggest keeping ETERNA as the last step in your nighttime beauty routine.
First, remove makeup and cleanse your skin with PURE, our gentle cleansing milk. Follow up with toning the skin with one of our EAU VIVE moisturizing toners.
Then it's time to apply your preferred serum:
Finally, apply a layer of ETERNA evenly all over the face as the final step. ETERNA is going to seal your skincare routine and provide deep night care.
We are delighted to share ETERNA with you, and we look forward to seeing your experience and results with it.
Don't hesitate to reach out to us for guidance and tips on how to customize your FEY routine to your specific skin needs. All our products have been designed to work synergistically for optimal results.