ETERNA Anti-Aging Night Cream
5-in-1 Natural Anti-Wrinkle Face Cream - Moisturizing, Nourishing, Firming, Brightening, Repairing
Regular price

$76.99

Sale price

$76.99
Description

The Dreamy Anti-Aging Anti-Wrinkles Night Cream for Renewed Skin

Use this silky soft cream overnight to nourish your skin and make it look younger by restoring firmness, elasticity, and tone.

This product features an intensive formula with hyaluronic acid and rare Japanese Sophora flower extract, known for its mattifying and moisturizing effects. It helps to reduce signs of aging like loose skin and wrinkles. ETERNA also has natural squalane, niacinamide (vitamin B3) and organic rosehip, to improve the skin texture, like dark spots and fine lines.

---

For even more information, read our blog post on ETERNA, our anti-aging night cream.

Benefits: This best face cream for wrinkles visibly improves the appearance of age markers, such as wrinkles, fine lines, and firmness. It also increases volume, elasticity, and hydration, while reducing dark spots and improving radiance.

Type: Natural anti-aging cream, natural anti-wrinkle cream,

Cruelty-free, vegan and natural skin care ● Gender neutral - Made for both women and men ● Earth-friendly glass containers and FSC-certified recyclable paper packaging
Key Ingredients

Hyaluronic Acid (HA)

Hyaluronic acid is naturally produced by the skin. However, its production decreases as we age.
Remarkably, it has the ability to hold up to 1000 times its weight in water. This enables deep hydration of the skin, resulting in a plumping effect that reduces the visibility of wrinkles and fine lines. Our exclusive HA blends are free of glycols and enhance the effectiveness of active ingredients by optimizing their delivery.

Natural Japanese Sophora Flower

Used in traditional beauty and medicine rituals, this rare plant is known for its antioxidant, protective, mattifying and anti-aging properties thanks to its high flavonoid content.

Natural Squalane

Our squalane is derived from sugar cane. It helps reduce the appearance of wrinkles and fine lines. It also prevents moisture loss and strengthens the skin's natural barrier. Moreover, it boosts skin elasticity.

Niacinamide (also known as vitamin B3)

A superstar ingredient for skin restoring, brightening and wrinkles smoothing. It improves the skin's texture. It minimizes the appearance of pores and balances oil production.

Organic Rosehip

A goldmine of essential fatty acids and vitamins A & C exists. These compounds play a key role in improving skin texture and reducing hyperpigmentation. Rosehip also helps moisturize the skin for a smooth, plumped appearance.

Organic Lemon Verbena

A powerhouse against oxidative stress and a skin elasticity booster. It has uplifting and purifying qualities, in addition to relieving and reviving dull or tired skin.
How to Use

ETERNA can be applied to:

Face, neck and décolleté area.

How to apply ETERNA?

For daily use in the evening as the last step of your routine, preferably after cleansing and toning the skin. If your beauty routine includes the use of a serum, please apply it before the cream.
Apply ETERNA evenly all over the face.
Refer to FEY Skincare Rituals corresponding to your skin type to learn more.
Free Shipping

Canada and the United States

Free fast shipping in Canada and free standard shipping in the United States for all orders over CA$59.99 (before sales tax and after discounts). Shipping is just CA$9.00 in Quebec, and CA$13.00 in the reste of Canada and in the United States.

International

Free worldwide standard shipping for all orders over CA$249.99 (after discounts).

All orders are trackable.

See our Shipping Policy for more details.
Free 30-day returns

We are committed to providing quality products to our customers. While we hope that you are always satisfied with your FEY Cosmetics purchase, we realize there are times that you may need to return a product.

Free 30-day returns - See our Free Returns Policy for more info.
Share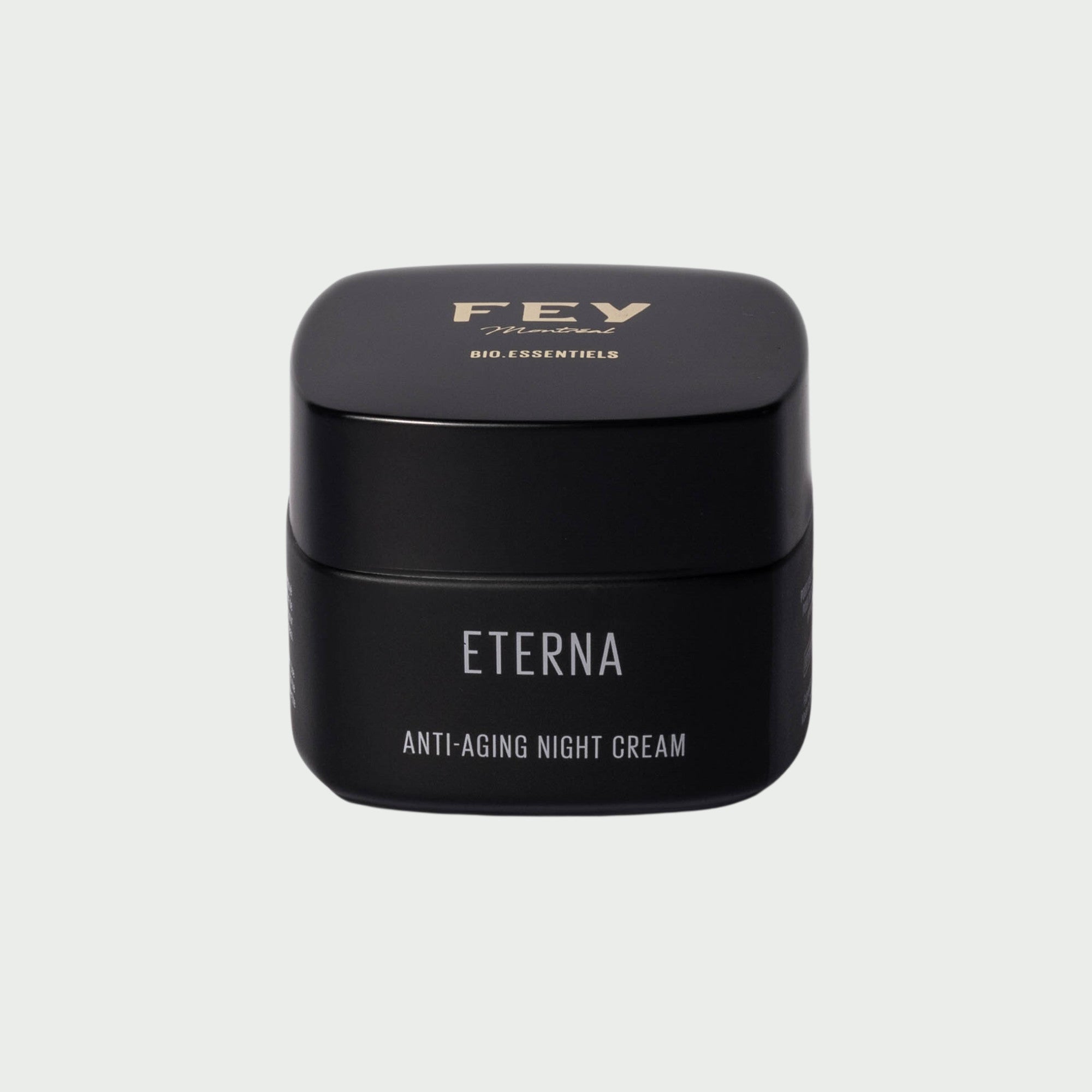 Wondeful. A skincare superstar that packs an anti-oxidant punch to fight the signs of aging.

Jackie Jet, Best Kept MTL
FAQs
Do you have a full ingredients list?

98.8% of naturally derived and organic ingredients

Aqua/Water/Eau, Coco-Caprylate/Caprate ‡, Triheptanoin ‡, Glycerin ‡, Polyglyceryl-6 Stearate ‡, Hydrogenated Vegetable Oil ‡, Persea Gratissima (Avocado) Oil ‡, Rosa Canina Fruit Oil *, Squalane ‡, Myrica Cerifera (Bayberry) Fruit Wax ‡, Propanediol ‡, Glyceryl Stearate ‡, Helianthus Annuus (Sunflower) Seed Wax ‡, Niacinamide, Glyceryl Caprylate ‡, Xanthan Gum ‡, Tocopheryl Acetate ‡, Sodium Stearoyl Glutamate ‡, Polyglyceryl-6 Behenate ‡, Lactic Acid ‡, Sodium Hyaluronate ‡, Inulin Lauryl Carbamate ‡, Potassium Sorbate, Glyceryl Undecylenate ‡, Sclerotium Gum ‡, Lecithin ‡, Lippia Citriodora Leaf Oil *, Pullulan ‡, Sophora Japonica Flower Extract ‡, Tocopherol ‡ *&nbspOrganic ‡&nbspNaturally-derived

ETERNA is free of artificial fragrances, butylene glycol, mineral oils, paraben, phenoxyethanol, propylene glycol, and silicone.
What sets ETERNA apart the other natural and organic anti-aging creams?

ETERNA is a multitasking solution enriched with natural squalane, which helps prevent moisture loss, fight aging, and provide antioxidant benefits while enhancing skin elasticity. It also contains hyaluronic acid for hydration and anti-aging properties, along with niacinamide, known for minimizing pores, brightening skin, and aiding in repair. This powerful formula is further enriched with organic and natural plant extracts like Sophora flowers, which mattify the complexion, and organic Rosehip, renowned for improving skin texture and reducing hyperpigmentation. ETERNA covers all your skin's needs.
Is this anti-ageing cream suitable for my skin type?

ETERNA suits all skin types and we recommend it for aging and mature skins. Please note it does contain essential oils.
This product contains hyaluronic acid, why is it so important?

Our water-based serums and mists contain hyaluronic acid. Our anti-ageing creams also contain hyaluronic acid. The amount of hyaluronic acid is substantial.
This tiny molecule has huge effects! Hyaluronic acid is known for its essential role in fighting the signs of skin aging. In addition to deeply moisturizing the skin, it helps restore its softness, firmness, structure and elasticity.
We have created a new generation of concentrated formulas. These formulas combine high and low molecular weight hyaluronic acid fragments with other effective natural ingredients.
Do you use phenoxyethanol, parabens or glycols?

No. Also we do not use any of the so-called -dirty dozen-: parabens, fragrances, sodium laureth sulfate (SLS), triclosan, petrolatum, PEGS, formaldehyde-releasing preservatives, siloxanes, DBP dibutyl phthalate), Cocamide DEA and Lauramide DEA, BHA and BHT, coal-tar dyes (C.I.).
I still have questions.
Can't find what you're looking for?
Send us an email to tell us what's up and someone from our Customer Service team will get back to you as soon as possible.
Please email us at info@feycosmetics.com
J'adore les produits Fey. Ils me laissent une peau douce et homogène. La quantité est bonne.
Eterna
An outstanding product…truly! I will continue using it as long as you make it! Thank you😇
Question for you…do you make a product that helps with eyebags?
Thank you Peter!
About eyebags (and dark circles), we recommend using FUSION, our regenerating serum. Simply apply a couple of drops (on damp skin) with the tip of your index finger.
Have a great day!
Marie
Très efficace
C'est mon premier achat de la crème de nuit Eterna de Fey. Je dois dire que je l'ai aimé immédiatement : onctueuse et d'une texture douce, pénètre rapidement la peau en laissant une sensation d'hydratation et de douceur idéale.
Après un peu plus d'un mois d'utilisation, on me dit qu'elle est très efficace ! Mes rides et ridules sont moins marquées, et ma peau plus ferme et plus lumineuse :-)
je recommande.