ÉCLAT Nourishing Ultra Serum
Intensive repair formula with hyaluronic acid 2%
Regular price

$50.99

Sale price

$50.99
Description

A Must-have for a Glowing and Bright Complexion

Wake up to a radiant complexion, and plump, smoother-looking skin with this nighttime gel serum specifically designed to deeply nourish the skin.

Packed with hyaluronic acid and amino acids, ÉCLAT's naturally derived ingredient complex is enriched with antioxidants such as organic green tea and baobab, for a radiant and revitalized skin. Recognized for its softening properties and its exceptional content in vitamin C and vitamin E, baobab extract helps reduce the visible signs of collagen and elastin loss by restoring skin firmness and elasticity.

---

Benefits: Skin looks visibly plumped and smoother ● Deeply nourishes skin ● Helps minimize the signs of collagen loss ● Evens out skin tone and brightens complexion

Type: Natural anti-aging serum, night repair serum, nourishing serum

Cruelty-free, vegan and natural skin care ● Gender neutral - Made for both women and men ● Earth-friendly glass containers and FSC-certified recyclable paper packaging
Key Ingredients

Hyaluronic Acid (HA)

Produced naturally by the skin, but less and less with age, hyaluronic acid can contain up to 1000 times its weight in water. It allows hydration of the deep layers of the skin, creating a plumping effect and reducing the appearance of wrinkles and fine lines. Our proprietary HA blends eliminate all types of glycols and optimize the delivery of active ingredients.

Organic Baobab Oil

Packed with omegas, vitamins B and C, and minerals essential for healthy skin. Deeply softening and regenerating, baobab oil helps improve the skin's elasticity by adding more firmness and hydration.

Organic Green Tea

It is one of the best sources of antioxidants to actively slow down aging. In cosmetics, green tea is used to reduce redness and sun damage or hyperpigmentation. Its antimicrobial properties prevent acne outbreaks and its decongestant effect on blood vessels helps treat dark circles.

Organic Australian Wild Rosella (Hibiscus)

Wild rosella is a resilient flower, adapted to the harsh conditions of northern Australia. Concentrated in antioxidants and vitamins A, C and E, it also has a very high content of natural betaine. This gentle compound helps the skin to balance and maintain its moisture level.
How to Use

ÉCLAT can be applied to:

Face, neck and décolleté area.

How to apply ÉCLAT?

For your evening routine.
The serum should be applied to freshly cleansed wet skin. Gently rub 2 drops of serum onto moistened face, neck and décolleté area in circular movements. Wait until the serum is completely absorbed before applying any other skincare product or makeup.
Refer to FEY Skincare Rituals corresponding to your skin type to learn more.
Free Shipping

Canada and the United States

Free fast shipping in Canada and free standard shipping in the United States for all orders over CA$59.99 (before sales tax and after discounts). Shipping is just CA$9.00 in Quebec, and CA$13.00 in the reste of Canada and in the United States.

International

Free worldwide standard shipping for all orders over CA$249.99 (after discounts).

All orders are trackable.

See our Shipping Policy for more details.
Free 30-day returns

We are committed to providing quality products to our customers. While we hope that you are always satisfied with your FEY Cosmetics purchase, we realize there are times that you may need to return a product.

Free 30-day returns - See our Free Returns Policy for more info.
Share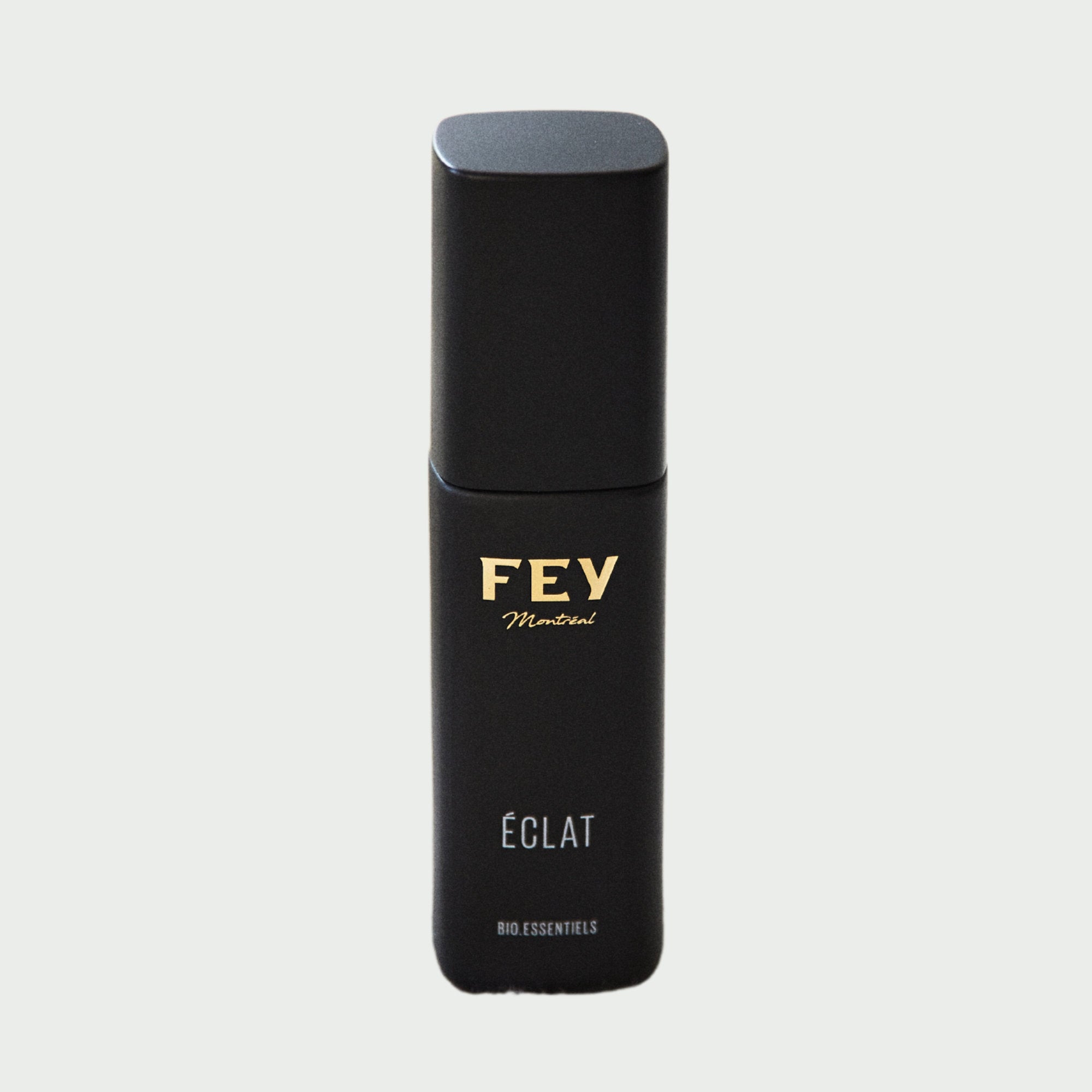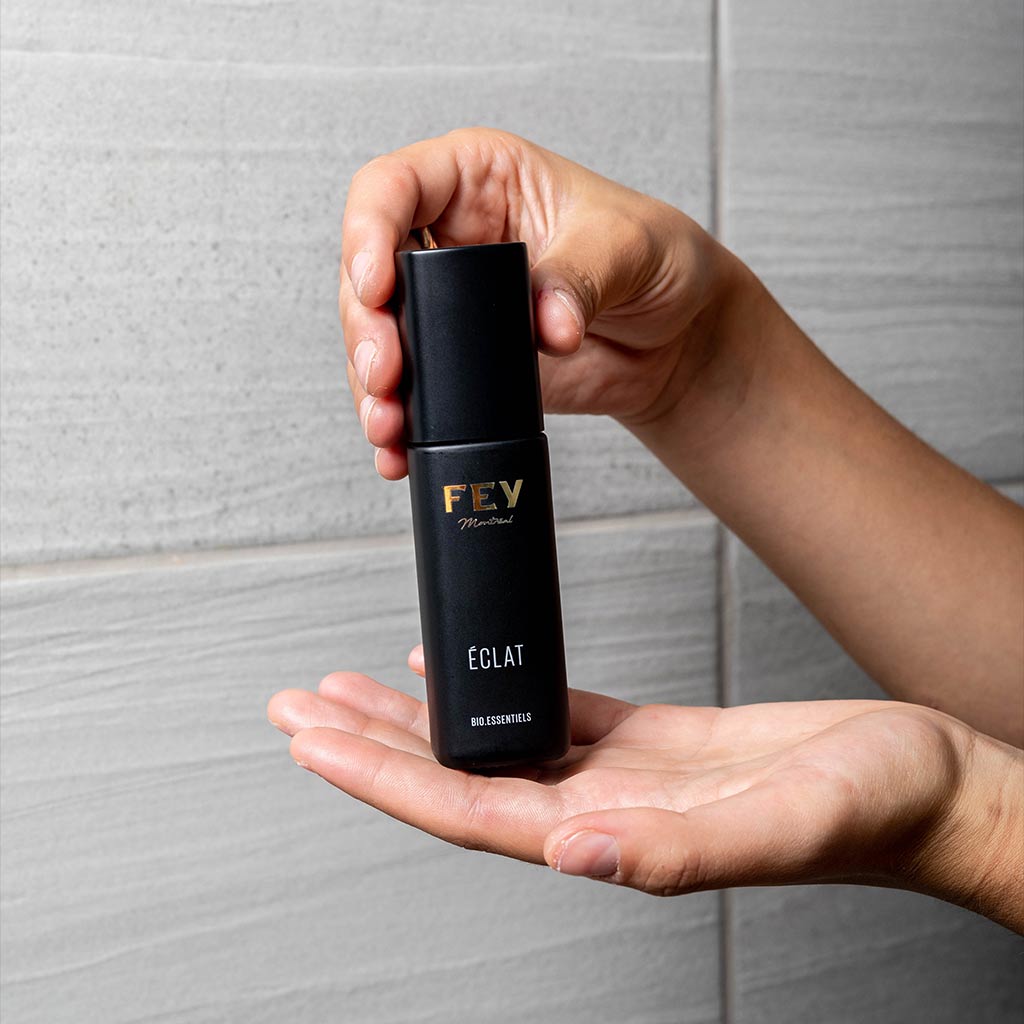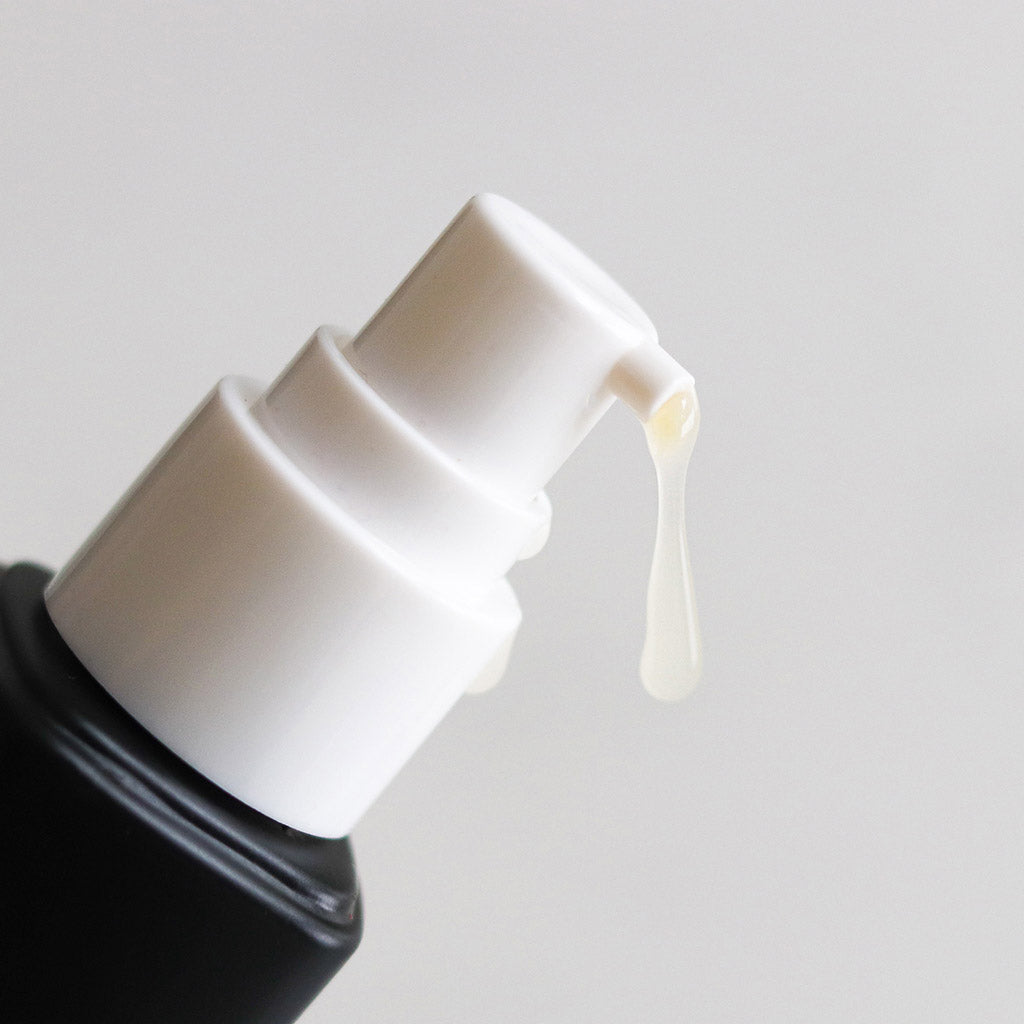 FAQs
Do you have a full ingredients list?

96% of naturally derived and organic ingredients including 2% of hyaluronic acid

Aqua/Water/Eau, Propanediol‡, Glycerin‡, Sodium Hyaluronate‡, Adansonia Digitata Seed Oil*, Camellia Sinensis Leaf Extract*, Erythritol‡, Pantothenic Acid‡, Sclerotium Gum‡, Tocopheryl Succinate‡, Lysine HCl‡, Citrus Paradisi (Grapefruit) Seed Extract‡, Glycine‡, Hibiscus Sabdariffa Fruit Extract*, Magnesium Ascorbyl Phosphate, Sodium Levulinate‡, Inulin Lauryl Carbamate‡, Lecithin‡, Pullulan‡, Xanthan Gum‡, Citric Acid‡, Potassium Sorbate *&nbspOrganic ‡&nbspNaturally-derived

ÉCLAT is free of artificial fragrances, butylene glycol, mineral oils, paraben, phenoxyethanol, propylene glycol, and silicone.
My main skin concern is ageing and I already have an anti-ageing night cream. Do I need this serum?

Just like TONUS, ÉCLAT was created with mature skin in mind, and is often used as an alternative to or in addition to an anti-ageing cream.
ÉCLAT targets specific problems: dullness and collagen loss. Formulated to penetrate the skin's surface, this serum allows collagen-boosting and skin tone-evening nutrients to be quickly absorbed into the dermis for a smooth, radiant complexion.
We recommend you pair it with ETERNA, our anti-ageing night cream, for optimal results.
Why are your serums called Ultra Serums? What is the difference with traditional face serums?

As a whole new generation of facial serums, Ultra Serum stands for "Ultra Concentrated, Ultra Efficient".
The result of years of laboratory research, our Ultra Serums are packed with powerful bioactive plant extracts and concentrated with up to 2% in hyaluronic acid. Non-oily and with a pleasant texture, halfway between an ordinary serum and a gel, they help reinforce hydration and effectively target the signs of skin aging (fine lines and loss of firmness) and its imperfections.
Is this serum suitable for my skin type?

ÉCLAT is recommended for normal, dry, sensitive and mature skins. It helps fight dull skin and uneven skin tone. This very nourishing formulation also has an action against loss of elasticity and sagging skin. Also it does not contain essential oils.
This product contains hyaluronic acid, why is it so important?

All of our water-based serums and mists, as well as our anti-ageing creams, contain a hefty amount of hyaluronic acid.
This tiny molecule has huge effects! Hyaluronic acid is known for its essential role in fighting the signs of skin aging. In addition to deeply moisturizing the skin, it helps restore its softness, firmness, structure and elasticity.
That's why we've developed a new generation of concentrated formulas that combine high and low molecular weight hyaluronic acid fragments with other highly effective natural ingredients.
Do you use phenoxyethanol, parabens or glycols?

No. Also we do not use any of the so-called -dirty dozen-: parabens, fragrances, sodium laureth sulfate (SLS), triclosan, petrolatum, PEGS, formaldehyde-releasing preservatives, siloxanes, DBP dibutyl phthalate), Cocamide DEA and Lauramide DEA, BHA and BHT, coal-tar dyes (C.I.).
I still have questions.
Can't find what you're looking for?
Send us an email to tell us what's up and someone from our Customer Service team will get back to you as soon as possible.
Please email us at info@feycosmetics.com
J'adore les produits Fey. Ils me laissent une peau douce et homogène. La quantité est bonne.
J'adore les produits ! Ils me laissent une peau douce et plus homogène.
Fait partie de ma routine du soir
J'aime beaucoup la texture de ce serum. Il est facile à étaler (même si on dirait plus un gel) et il rentre vite dans la peau. Après environ un mois, je vois une différence et ma peau plus belle au réveil.