BRUME Comforting Body Mist
Comforting Hair + Body Moisturizing Spray
Regular price

$23.99

Sale price

$10.80
Description

A light, revitalizing body mist to envelop your body in an instant intense hydration.

Packed with natural ingredients and hyaluronic acid, it subtly perfumes the skin with the comforting and fruity scent of Nordic cloudberries. The skin regains its softness and suppleness for a feeling of overall well-being.

It comes in a convenient size (100 mL / 3.38 fl. oz.) to throw into any backpacks, makeup bag or purse. There are so many ways to use it! As soon as you wake up in the morning, after a work-out or at the beach to cool down your skin, in the winter when the skin tends to get dull and dry, and any time your skin needs an instant hydrating experience.

---

Benefits: An exquisite moment of lightness and comfort ● No sticky feeling, sinks in quickly ● Long lasting hydration ● Ideal for a glowing and silky-soft skin

Cruelty-free, vegan and natural skin care ● Gender neutral - Made for both women and men ● Earth-friendly containers and recyclable packaging
Key Ingredients

Hyaluronic Acid (HA)

Produced naturally by the skin, but less and less with age, hyaluronic acid can contain up to 1000 times its weight in water. It allows hydration of the deep layers of the skin, creating a plumping effect and reducing the appearance of wrinkles and fine lines. Our proprietary HA blends eliminate all types of glycols and optimize the delivery of active ingredients.

Natural Nordic Cloudberry

Cloudberry, an arctic berry, grows mainly in Quebec, Siberia, Alaska and the Scandinavian circumboreal regions. Cloudberry extract is full of vitamins A and C, two undisputed allies for a radiant skin thanks to the carotenoids of the former and the antioxidants of the latter. In addition its fatty acids (omega 3 and 6) strengthen the skin's protective barrier by helping it retain moisture.

Organic Australian Wild Rosella (Hibiscus)

Wild rosella is a resilient flower, adapted to the harsh conditions of northern Australia. Concentrated in antioxidants and vitamins A, C and E, it also has a very high content of natural betaine. This gentle compound helps the skin to balance and maintain its moisture level.
How to Use

BRUME can be applied to:

Body and hair.

How to apply BRUME?

Mist all over the body after bathing or at any time of the day. Ideal for quickly refreshing the skin and for a long-lasting hydration.
Use a small amount in hair to revive and hydrate.
For even more freshness, keep mist in the refrigerator.
Free Shipping

Canada and the United States

Free fast shipping in Canada and free standard shipping in the United States for all orders over CA$59.99 (before sales tax and after discounts). Shipping is just CA$9.00 in Quebec, and CA$13.00 in the reste of Canada and in the United States.

International

Free worldwide standard shipping for all orders over CA$249.99 (after discounts).

All orders are trackable.

See our Shipping Policy for more details.
Free 30-day returns

We are committed to providing quality products to our customers. While we hope that you are always satisfied with your FEY Cosmetics purchase, we realize there are times that you may need to return a product.

Free 30-day returns - See our Free Returns Policy for more info.
Share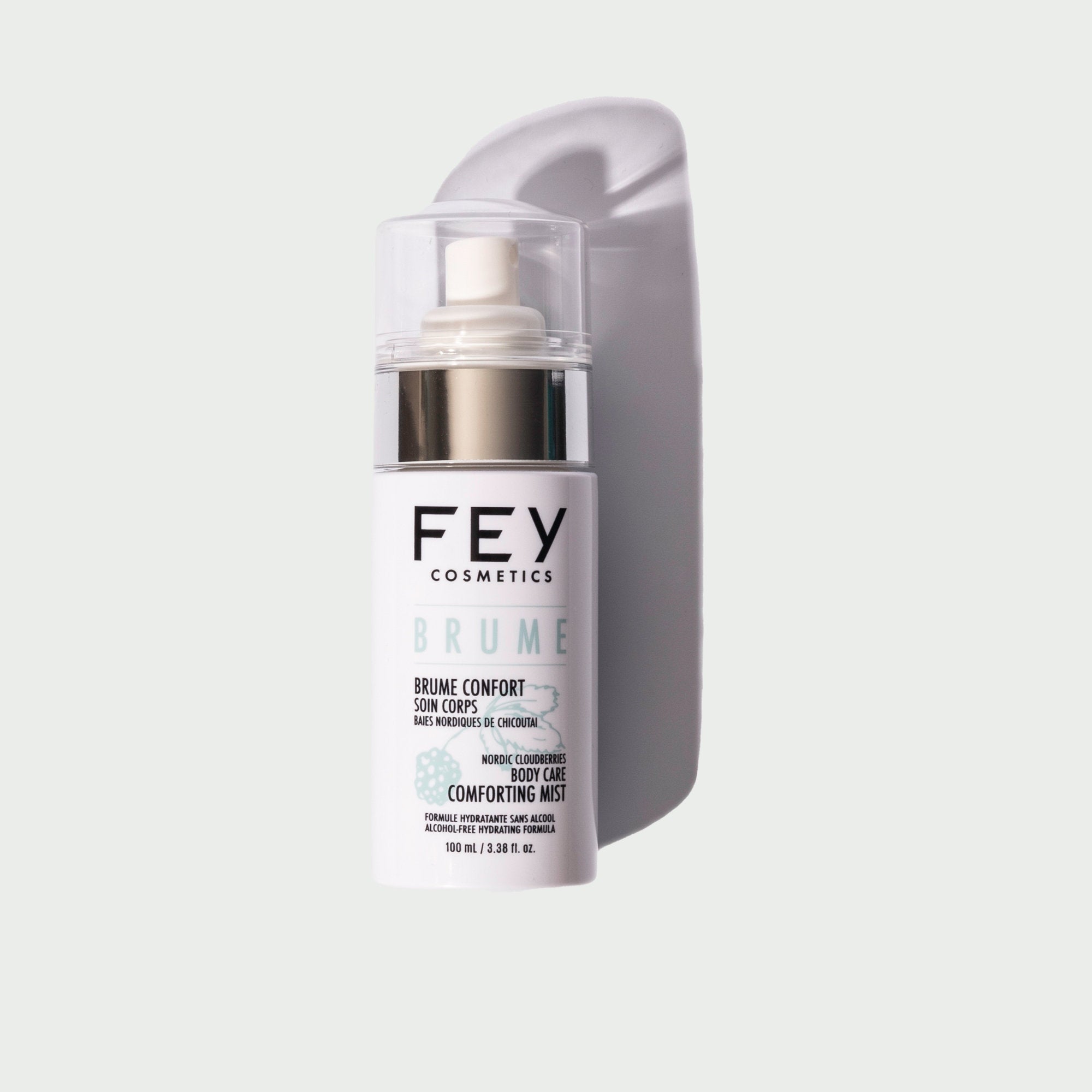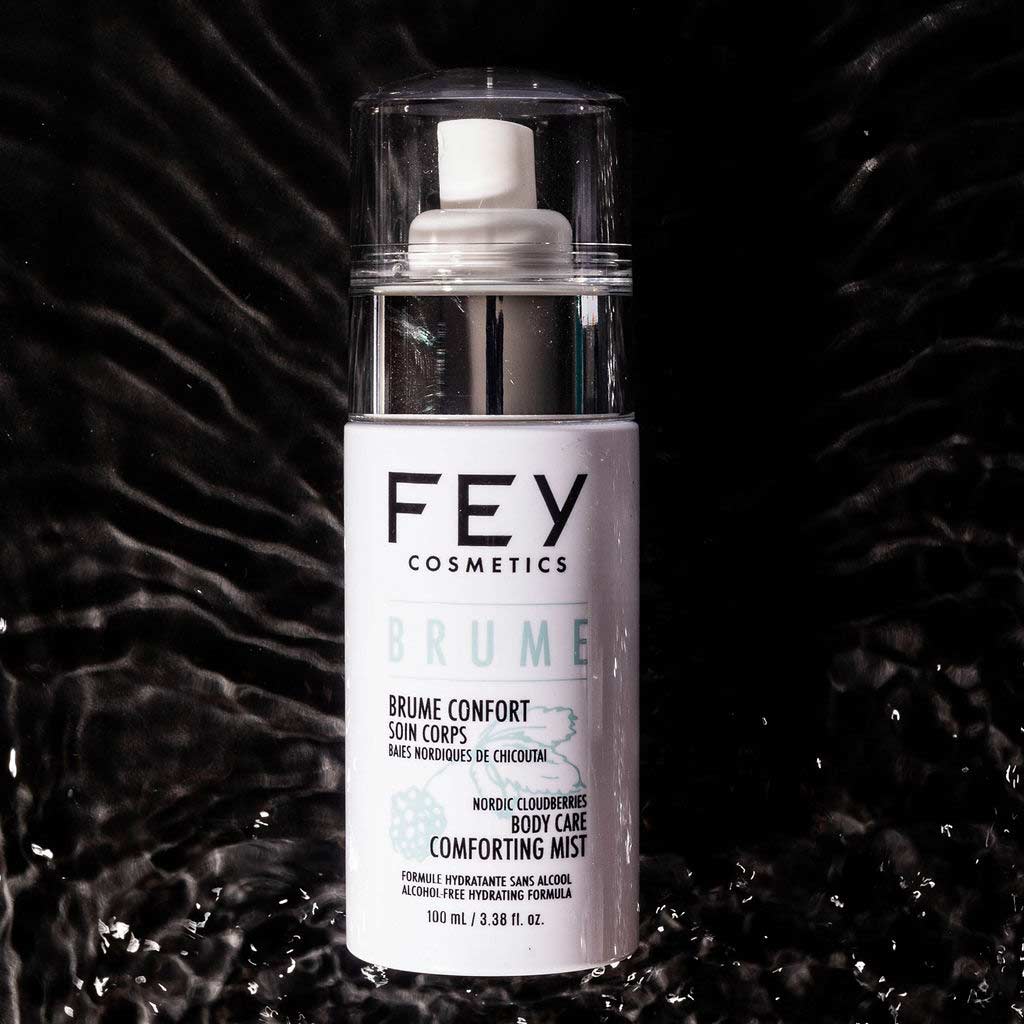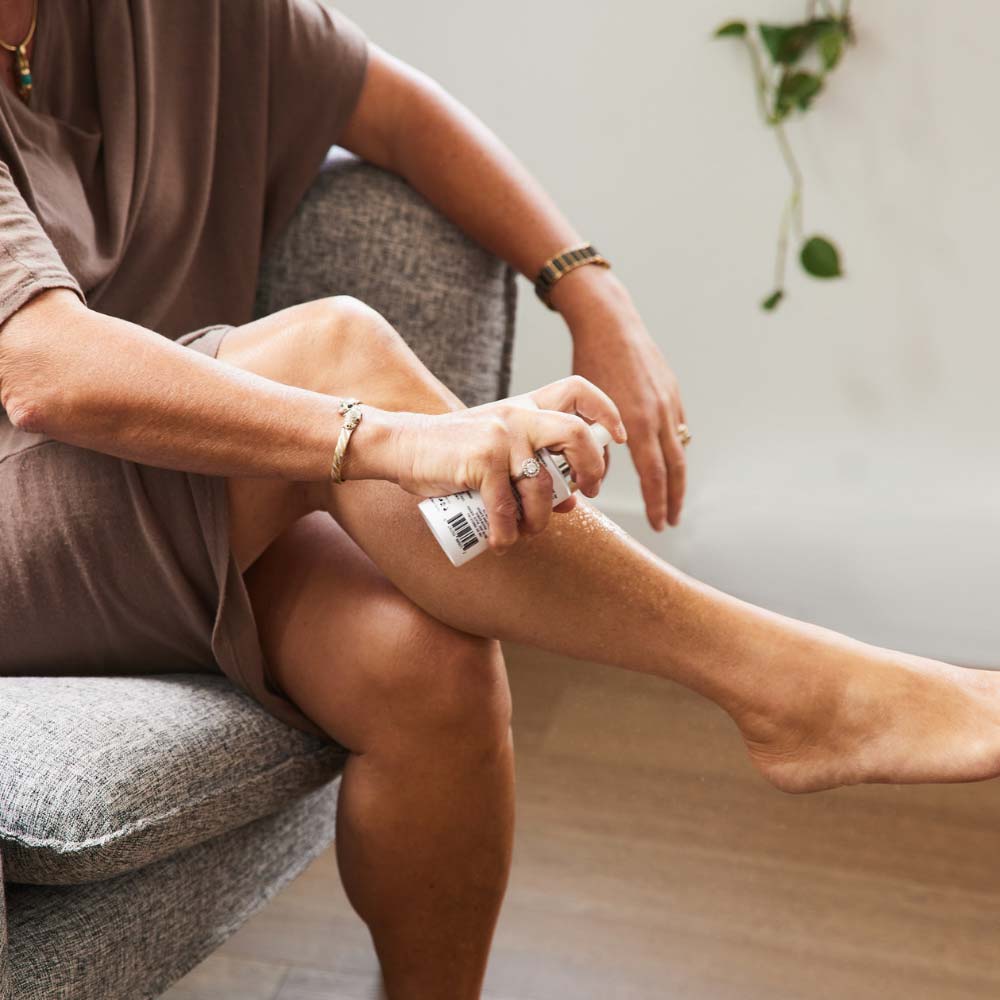 We pamper our body (and hair!) with wild Australian hibiscus and organic lemon verbena, both rich in antioxidants, not to mention the "plumping" effect of hyaluronic acid.


Véro Magazine
FAQs
Do you have a full ingredients list?

97% of naturally derived and organic ingredients

Aqua/Water/Eau, Propanediol‡, Glycerin‡, Laminaria Digitata Extract*, Hibiscus Sabdariffa Fruit Extract*, Rubus Chamaemorus Fruit Extract‡, Erythritol‡, Pantothenic Acid‡, Sodium Hyaluronate‡, Lactic Acid‡, Potassium Sorbate, Sodium Levulinate‡, Aroma‡ *&nbspOrganic ‡&nbspNaturally-derived

BRUME is free of butylene glycol, mineral oils, paraben, phenoxyethanol, propylene glycol, and silicone.
Is this mist suitable for my skin type?

BRUME is suitable for all skin types, and is ideal for dry skin. Also it does not contain essential oils.
This product contains hyaluronic acid, why is it so important?

All of our water-based serums and mists, as well as our anti-ageing creams, contain a hefty amount of hyaluronic acid.
This tiny molecule has huge effects! Hyaluronic acid is known for its essential role in fighting the signs of skin aging. In addition to deeply moisturizing the skin, it helps restore its softness, firmness, structure and elasticity.
That's why we've developed a new generation of concentrated formulas that combine high and low molecular weight hyaluronic acid fragments with other highly effective natural ingredients.
Do you use phenoxyethanol, parabens or glycols?

No. Also we do not use any of the so-called -dirty dozen-: parabens, fragrances, sodium laureth sulfate (SLS), triclosan, petrolatum, PEGS, formaldehyde-releasing preservatives, siloxanes, DBP dibutyl phthalate), Cocamide DEA and Lauramide DEA, BHA and BHT, coal-tar dyes (C.I.).
I still have questions.
Can't find what you're looking for?
Send us an email to tell us what's up and someone from our Customer Service team will get back to you as soon as possible.
Please email us at info@feycosmetics.com
Nice body mist
I really like the formula of this spray. It's very hydrating and quenches the skin, nice light lemon verbena scent that feels refreshing. My complaint is with the bottle. I wish it had a more gentle mist, it kind of sprays hard and doesn't disperse to cover a larger area like other body mists I've used
Légère et hydratante
Très bon produit. Senteur fruitée (chicoutai du Québec!) très agréable. Format parfait pour tous les sacs. J'adore.
Hydratante
Excellent produit. Parfaitement hydratant et absorbe rapidement. Très agréable (mais peu marquée) odeur florale. J'ai également acheté la version confort que j'aime tout autant! Difficile de décider laquelle racheter!